Regular price
Sale price
$10.50 USD
Unit price
per
Sale
Sold out
Our Mega Omega Mix is a delicious blend of nuts, fruits and seeds. Walnuts and Cashews provide you with Omega-3 "heart-healthy" fatty acids, while the Almonds are a source of antioxidants. Add a dash of protein and vitamin B rich pumpkin seeds and you've got the perfect, healthful snack. So, Power up your snack life and make the most of your day.
Our mix nuts are unsalted and carefully roasted to enhance the natural nutty flavor for a satisfying snack.
Share
View full details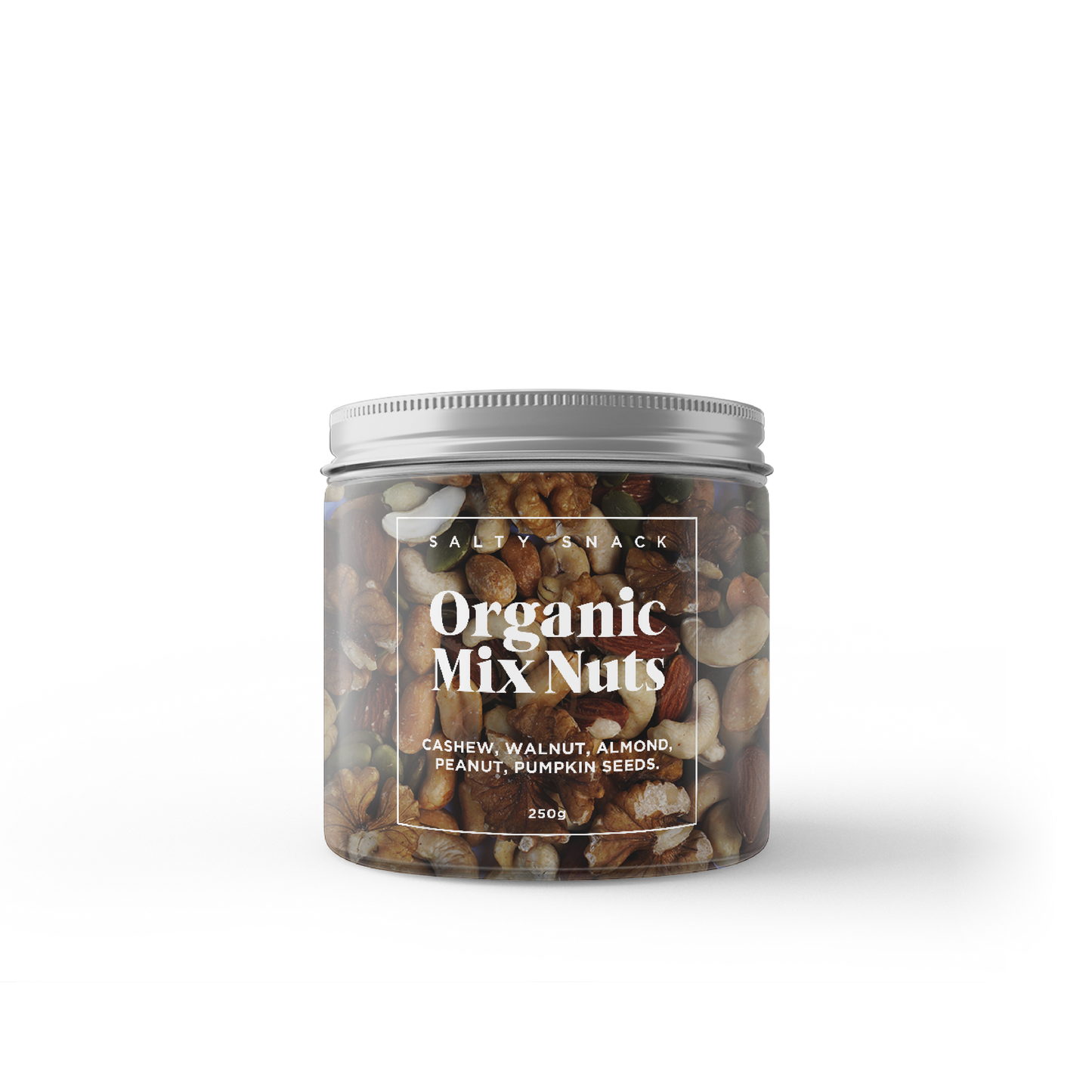 Sleep quality

Immunity

Vitamin C

Relax Mind

Gut Health

Antioxidants
Collapsible content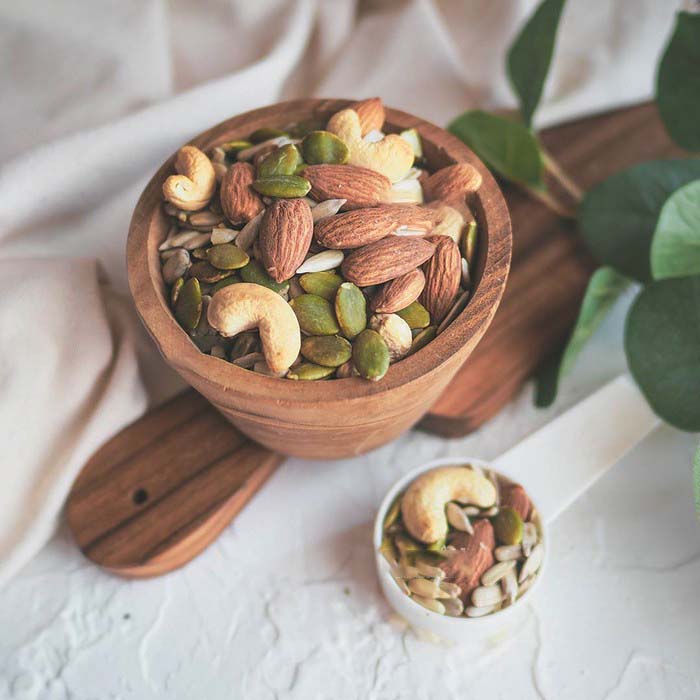 Ingredients

Walnuts, Peanuts, Almonds, Cashews, Pumpkin Seeds
Benefits

Offering a crunchy combination of peanuts, almonds, cashews, walnuts and pumpkin seeds.

A Great Source of Many Nutrients.
Loaded With Antioxidants
May Aid Weight Loss.
May Lower Cholesterol and Triglycerides
Beneficial for Type 2 Diabetes and Metabolic Syndrome..
May Reduce InflammationHigh in Beneficial Fiber.
May Reduce Your Risk of Heart Attack and Stroke.
How to use

Sprinkle these mixed nuts over salads as a topping or serve them with soups. 
Perfect time

Bali Bohem Mix Nuts are a perfect on-the-go snack to curb your cravings.
Important Information

This Blend has no harmful effects as such, but pregnant women and people with allergies must be cautious while drinking it and must always consult a doctor/dietician first.

No Artificial Flavors, Colors or Preservatives.
Ingredients
Almonds

9 grams of monounsaturated fats (the good kind!) along with 6 grams of protein in every ounce.

Pumpkin Seeds

Rich in vitamins and minerals like manganese and vitamin K. Contains also zinc, a mineral that supports the immune system.

Walnuts

Every jar is filled with delicious, top-quality walnuts. 4-5 grams of protein per ounce.

Cashews & Peanuts

With 7 grams of protein and a good source of fiber in every ounce, our roasted peanuts make smart snacks.
FAQ
What's so special about our nuts?

Roasted, then slightly salted with sea salt, this process enhances their rich, nutty flavor. Our deluxe mixed nuts are comprised of roughly 45% cashews, 40% almonds, 5% brazil nuts, 5% hazelnuts, and 5% pecans;
Why is oven roasted nuts better?

Unlike some other nuts, Bali Bohem Mix Nuts are never fried. All nuts have natural oils—so why fry them in even more oil? Have a tasty mix of your favorite nuts like almonds, cashews, walnuts, peanuts and pumpkin seeds.
Can I eat Mix Nuts everyday?

Wonderfully crunchy, these rich mixed nuts have the delicious flavor you crave, whether you need a between-meal snack or a satisfying late-night treat.
What are the health benefits of eating nuts?

Improve artery health.
Reduce inflammation related to heart disease.
Decrease the risk of blood clots, which can lead to heart attacks and strokes.
Lower the risk of high blood pressure.
Lower the risk of early death due to heart disease
Perfect on-the-go snack to curb your cravings.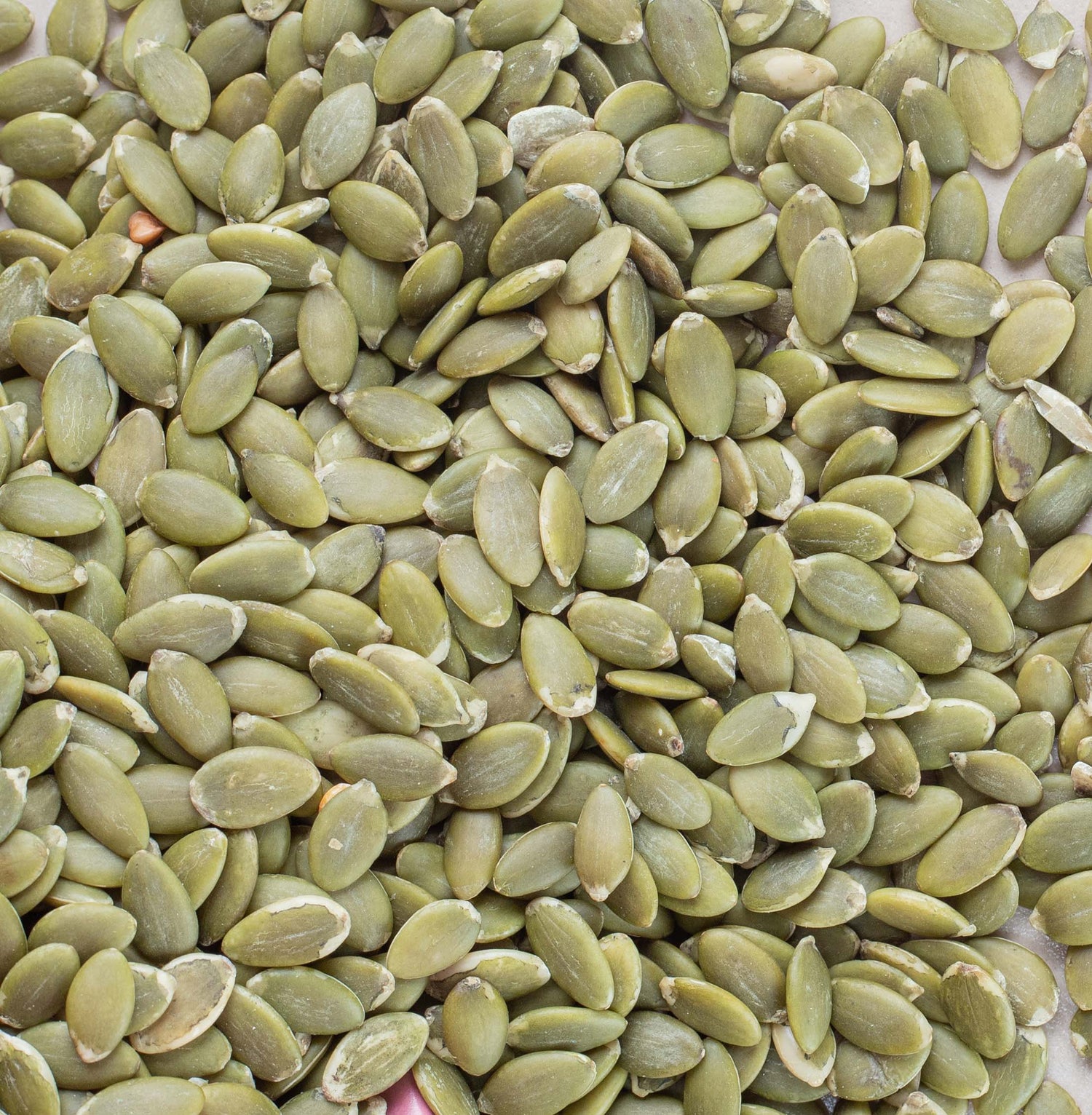 These blends were made to calm your mind, settle your body, and enhance sleep, naturally.
3 meals a day just doesn't cut it anymore. Our bodies need consistent energy levels throughout the day in order to function at their best. And let's face it, sugary sweets, questionable supplements, and artificial boosters aren't the answer. Our snack mixes provide the nutrition and satisfaction your body and taste buds crave. So, Power Up your snack life and make the most of your day.
CERTIFIED ORGANIC
NON-GMO
PESTICIDE-FREE
CAFFEINE-FREE
SUGAR-FREE
VEGAN
GLUTEN-FREE
KETO-FRIENDLY
To learn more about our organic products, visit balibohem.com