This recipe makes a delicious and healthy mixed nut granola. The combination of oats, nuts, and dried fruit provides a nutritious and satisfying breakfast or snack option. The maple syrup and coconut oil add sweetness and flavor, while the vanilla extract gives it a nice aroma. You can enjoy it with yogurt, milk or on its own as a snack. You can also add different ingredients like seeds, coconut flakes, chocolate chips, or dried fruits to make it more versatile and to your liking.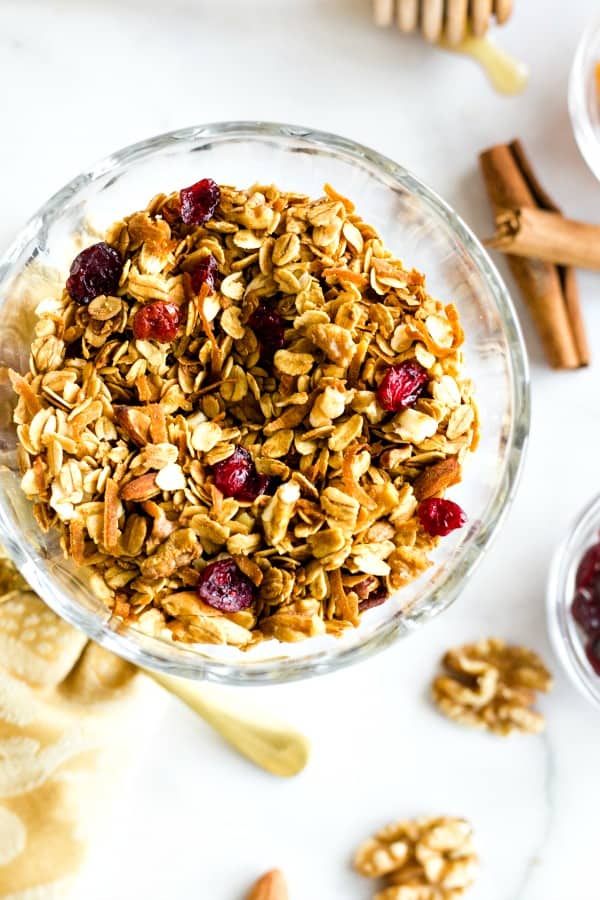 Ingredients:
3 cups of rolled oats
1 cup of mixed chopped nuts (almonds, walnuts, pecans, etc)
1/2 cup of dried fruit (cranberries, raisins, apricots)
1/4 cup of maple syrup
1/4 cup of melted coconut oil
1 teaspoon of vanilla extract
1/4 teaspoon of salt
Instructions:
Preheat your oven to 350 degrees F.
In a mixing bowl, combine the rolled oats, chopped nuts, dried fruit, salt.
In a separate bowl, mix the maple syrup, melted coconut oil, and vanilla extract.
Pour the wet mixture over the dry mixture and stir until well combined.
Spread the mixture out on a baking sheet lined with parchment paper or aluminum foil.
Bake in the preheated oven for 20-25 minutes or until golden brown, stir occasionally to get an even color.
Remove from the oven and let it cool completely.
Once cooled, store the granola in an airtight container or enjoy it immediately.